Retallack Ladies Shred Session
Retallack Ladies Shred Session
July 27 @ 5:00 pm - July 30 @ 3:00 pm
Free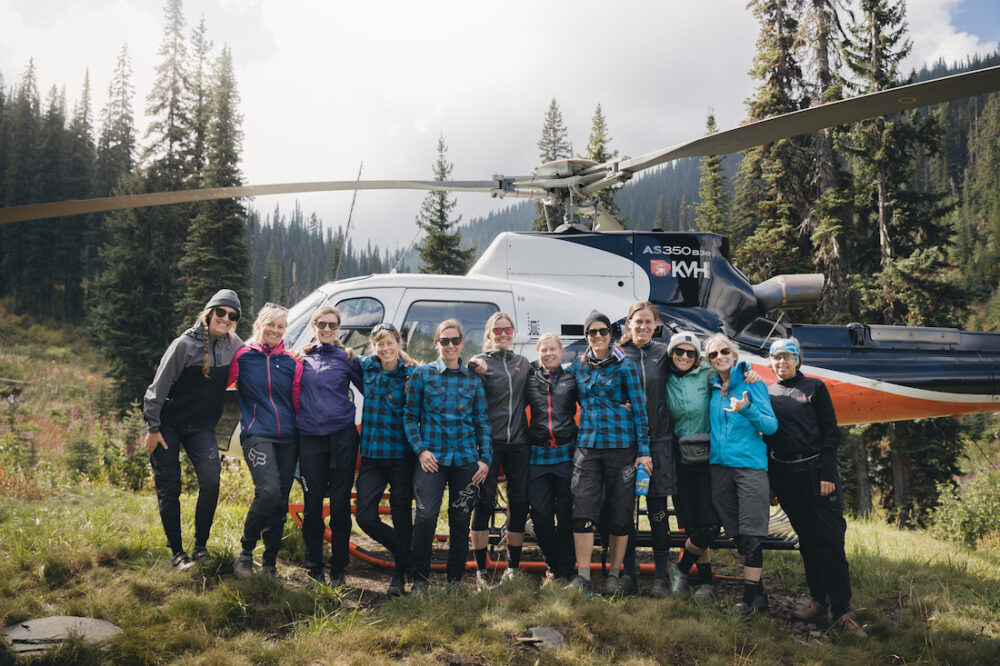 Are you a gravity junky? Then you're going to LOVE this mountain bike adventure at Retallack! Improve your gravity skills with us as we take you through jump progressions and cornering skills on the secluded trails at Retallack. Heli drop, shuttles, sweet singletrack, lots of coaching, gourmet meals, and no pedalling!
Retallack Lodge is a famous cat skiing lodge deep in the Kootenay Mountains near New Denver, BC. They are quickly becoming very popular for their shuttle assist singletrack vacations during the summer months. Sweet Skills launched the inaugural camp with Retallack in 2018 with rave reviews! No doubt, you will be totally hooked after your first run! Jumps, berms and natural features line the custom-built trails flowing from scenic Kootenay mountain alpine to valley bottom. We'll let gravity feed us down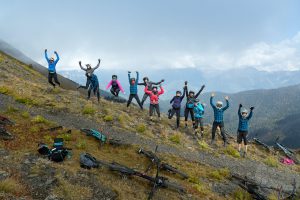 through historic mining sites, alpine wildflowers, and fantastic trails. To maximize our fun we'll be swept up in the shuttle van and zipped straight back up to the top, a wicked way to hone those downhill skills and have a ripping good time.
The cherry on top off this trip: getting heli dropped on top of a peak with 6000ft of epic single track to shred! After all that descending, we'll enjoy the gorgeous lodge with après that can't be beat! Soak in the hot tub, hang by the babbling brook with a cool drink, play a wide assortment of games, and enjoy some amazing bevvies at the bar. Retallack has the après scene dialed!
This camp is aimed at strong intermediate riders and up who can ride basic black diamond trails – you don't have to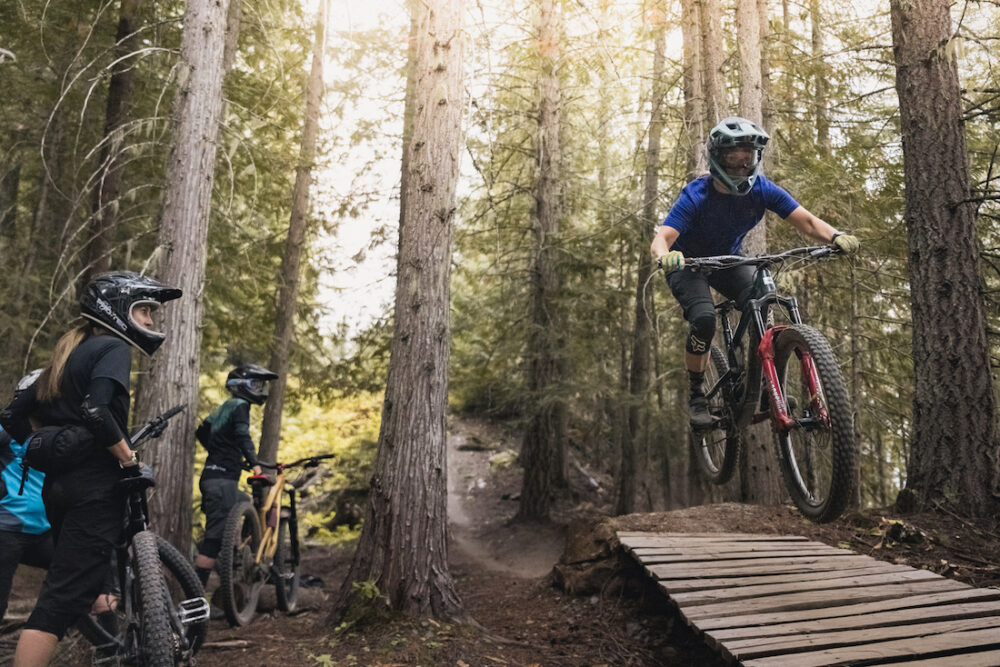 arrive an expert jumper, but you sure might leave as one with help from our Sweet Skills coaches! If you're just starting to learn to jump or already sending it, we'll have a group for you!
The Sweet Skills Retallack weekend was by far my best shredding weekend of the summer. Sweet Skills coaches were amazing and knew how to work with a range of skill levels to keep each of us challenged and STOKED. Retallack itself is a mountain bikers paradise. The lodge, the food, the employees, the trails, the après… all of it is dialled. I will 100% be back for this camp next year, and already looking forward to it!
Skill & Fitness Level:
Skill Level: IA-A  Fitness Level 3-6 *Unsure if you're fitness level and ability match this camp? Call Sylvie to discuss: 604-966-8330. See itinerary link below for details.
INCLUDED
3 full days of shuttle assist riding in a unique unimog vehicle & professional coaching
1 heli drop experience
3 nights accommodation at the deluxe Retallack Lodge
All gourmet meals from the first night's dinner to the last day's lunch
Sweet Skills swag, prizes and deals from sponsors
Access to hot tub, sauna, fire pit
Participants are responsible for their own transportation to & from Retallack Lodge. (easily accessible in any type of vehicle. Lodge is located 30 mins from New Denver – 8 hrs from Vancouver / 7 hours from Calgary)
PRICE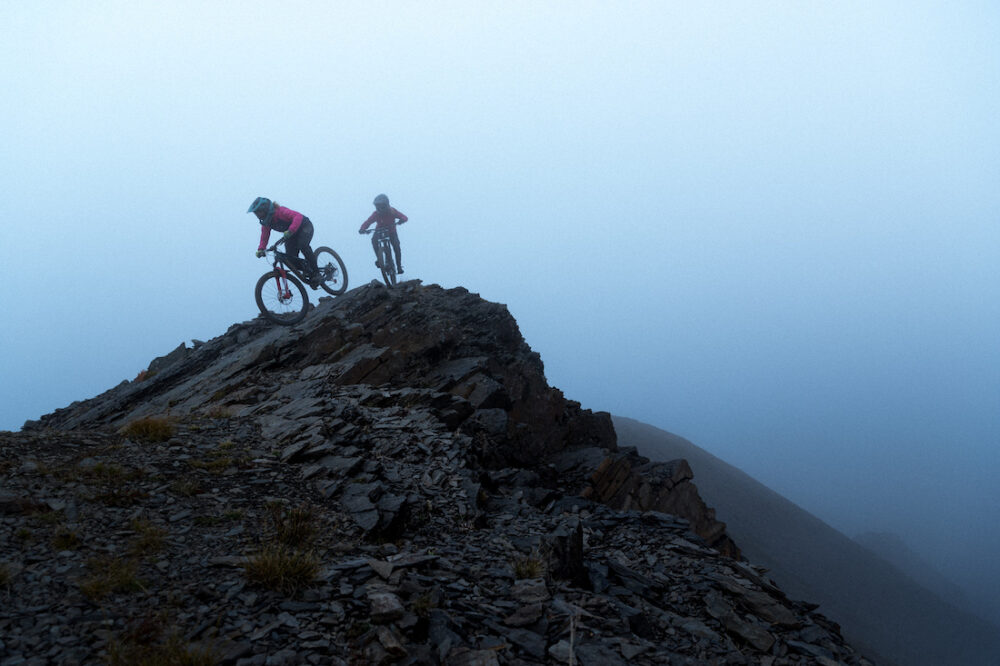 $2908.89 (includes taxes) 25% deposit is due to Retallack at time of registration.
HOW TO BOOK:
Step 1: Fill out the RSVP form below
Step 2: You will receive and email from Sweet Skills within 24hrs of booking to confirm next steps on sending deposit to Retallack
Step 3: PAYMENTS ARE DUE TO RETALLACK: via credit card.
Itinerary

DAY 1:

Make your way to Retallack Lodge for a 4:30pm check in time. Make sure to enjoy some of the small towns and the beautiful Arrow Lake on the way up to the remote lodge. Meet your group, get a tour of the lodge and enjoy some appies while you get stoked for the next 3 days of riding! After dinner you can take advantage of everything the lodge has to offer including a games room, hot tub, sauna, bonfire, bar, or just chillin' in the lounge.

DAY 2:

Load up on a hearty breakfast before your first day of exploring the Retallack trails! Before you set off for the day enjoy a morning mobility and stretch session to limber you up for a fun day of shredding. Your coaches will review a bunch of skills today so you can charge on the trails and feel more confident for the weekend. Key skills that will be worked on are body position, cornering, jumping, drops, and riding steep tech. Kick back in between runs on the massive and comfy shuttle vehicle as it takes you back up to the top. Stop for lunch by a creek to cool off and re-charge then hit the trails again for more skill sessioning and riding. After a fun filled first day the après hour is well deserved! Recount the day over appies and your favourite bevvie while a gourmet dinner is being prepared for you. After a relaxing evening of stargazing, hanging out by the bonfire and hitting your goose-down beds you'll be ready for another awesome day.

DAY 3:

Rise and shine! You have another sweet day ahead of you as tons of vertical is in store for today! Start the morning with a mobility session to loosen up for another wicked day. Lots of practice and riding on the trails to dial in your skills. With all that vertical we're sure to take lots of breaks to recharge with yummy snacks, photos, and just plain enjoying the views and the fun company. Chill out with the group at après and get yourself stoked to repeat another fabulous day tomorrow! After an amazing dinner we'll have fun with handing out prizes from sponsors and hear your favourite parts of the trip so far.

DAY 4:

Today is the day you've been waiting for! Heli drop to an alpine peak is the highlight of the trip and after so much riding you're ready to shred! More shuttle laps are also in store for today before wrapping up after lunch. Say goodbye to the group and bring home some new skills and sweet memories from an unforgettable trip!

* This retreat has not exclusively booked the entire Retallack lodge, so please note there may be other male and female guests enjoying the riding and the lodge along with us (we have our own private shuttle and coaches/guides).

**Itinerary may change at any time due to weather or other unexpected circumstances. No refunds for changed itinerary.

More Details

Within 1 week of registering, you'll be emailed a ton of information including details on pack list, bike prep, directions, and FAQ sheet. Check out the Retallack FAQ here in advance.

GEAR NEEDED:

We recommend that you bring an all mountain, enduro or DH bike. A bike with a minimum of 150mm of travel is required. If you have a lighter, steeper 130-140mm travel xc bike, you will need to rent a bike for your trip. If your bike is old or unsuitable, please consider renting a bike. Retallack provides some really nice enduro and DH rental bikes for a fee. Contact them to reserve your bike: guestservices@retallack.com

A full face helmet, full finger gloves, elbow pads, knee pads, and eye protection (glasses or goggles) are mandatory for this camp. A full pack list will be sent to you soon after registering.

THE RIDING: 

Retallack's huge network of trails are a mix of handbuilt singletrack and machine built flow trails. The terrain is primarily singletrack through pristine forest with flowy sections, steeper loamy technical trails with roots, fun bermy corners and flowy jumps. Ranging from dark blue to black BC singletrack rating. Strong intermediate riders and advanced riders will have the most fun at this camp. Low intermediates will find it too challenging on the steeper technical terrain. The shuttle and heli can get us up to some alpine trails which will skirt around open slopes with steep sections, loose rock (shale), and some exposure mixed in with lots of great berms. Jumps and drops will also be along some of the trails which we'll stop to session. We won't see many other people at all since the trails are quite remote and they're not on trail forks. So this is your own private bike park!

You don't need jumping or dropping experience to have fun at this camp, we'll session those skills along the trails.

INSURANCE:

Travel insurance is highly recommended and can be purchased through World Nomads, or your travel agent.

WAIVERS:

Each guest will be required to sign a Release of Liability, Waiver of Claims, Assumption of Risks and Indemnity Agreement at time of registration, prior to start of trip. Click here to view and fill in the online waiver at time of booking.  Participants are required to inform Sweet Skills of any allergies, medical conditions or injuries that might affect their riding or health and any medications taken.

AGE:

Minimum required age is 18 for our camps and clinics. Requests can be made on a case-by-case basis. It's recommended for youth between the ages of 14 and 18 to be accompanied by a parent or legal guardian.

Cancellation Policy

This trip is run in partnership with Retallack Lodge. They will be taking deposit and payments so their cancellation policy will be in effect, please read it here: